America the Messy Yard Police State
Chandler messy yard criminal to do time in jail!
Source
Former business owner gets jail time in debris, weeds case
by Edythe Jensen - May. 20, 2009 09:49 AM
The Arizona Republic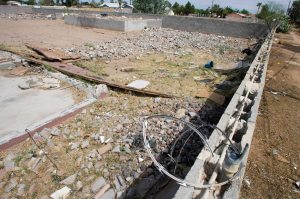 A former Chandler business owner could spend the summer in jail because he failed to remove debris and weeds from his abandoned landscaping company.
Pablo Pescador, 48, was sentenced to 90 days behind bars in Municipal Court last week when a judge found he didn't clean up the property at 900 E. Chandler Blvd. as required under the terms of his probation. The judge ordered Pescador, who lives in Queen Creek, to report to jail June 15.
His attorney, Jonathan Dessaules, called the jail sentence "an unfortunate development" and said he plans to appeal. City Prosecutor Collin Yu said Pescador was given multiple chances to clean the parcel and didn't. "I thought he would clean it up, but instead he moved a big pile of debris to the center of the property," Yu said. The debris included vats of motor oil, paint cans, metal and concrete.
"I think the city bent over backwards," the prosecutor said. "Our goal was to get it cleaned up, not to put him in jail."
Charges were brought against Pescador last year because the building was unsecured and unsafe. Open doors and broken windows invited transients and drug dealers, Yu said.
Dessaules said his client pleaded guilty to criminal misdemeanor charges for violating city property maintenance laws before he retained an attorney. He said earlier Pescador made several efforts to clean up the site but the city "kept raising the bar." The property is abandoned and for sale.
The jail term is a far cry from city officials' praises heaped on Pescador in 2004 when he turned what had been an abandoned wrecking yard into a landscape business. The enterprise didn't last long. A real-estate broker trying to sell the property said earlier this year that the economy and other business interests prompted Pescador to close Turfcare and he expects the business site will soon go into foreclosure.