America the Messy Yard Police State
Tempe Messy Yard Cops shut down Pita Pit
Source
Wall art at Pita Pit generates controversy
by Sarah Macdonald - May. 1, 2009 10:51 AM
The Arizona Republic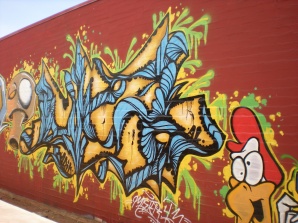 For years, a blank red wall has faced the Pita Pit in Tempe. The restaurant decided to improve the look of the wall a bit on April 24 during the Final Friday art program in Tempe, but the art that resulted has been the cause of some conflict.
The wall was spray-painted with seven tag-style designs that have drawn people off the street to come look. That has aided business, said one employee, Zack Hendrickson, who helped create some of the art. But Tempe has told Pita Pit that the artwork needs to be taken down or they can be fined.
Pita Pit, located across the street from Arizona State University near Mill Avenue and University Drive, failed to get approval from the city before they began work on the wall, not knowing it was necessary. A nearby business owner has complained, said owner Dimitri Soris, leading the city to approach his business. The seven designs on the wall look like graffiti, each bearing the name of the artist, but with several of the Pita Pit cartoon characters mixed in, such as a chicken, a fish and a cucumber. This current design won't last however, Soris said.
Soris said a new design for the wall is being created. He envisions a Tempe-themed wall, with 'A' Mountain, Sun Devil Stadium and Tempe Town Lake with a few of the Pita Pit characters.
In addition, the back portion of the wall, which holds a small, often unnoticed parking sign, is set to become a large painting to say "Pita Pit parking only".
This time, though, Pita Pit will submit its plans and then will go through the review process, Soris said.
The existing designs took just over 12 hours to complete. The eight artists began at 1 p.m. Friday and finished around 1:30 the next morning, Hendrickson said. All night long, people were stopping by to watch the artists, some even stopping on the street and running out with camera phones to take pictures, he said.
"It's not your typical art; it really catches your eye. It's youthful and people really relate to it," Hendrickson said.
Pita Pit employees have begun asking people what they think of the art, and the response has been overwhelmingly supportive, Hendrickson said. Word of mouth has added to business, he added.
Pita Pit is hoping to use its wall of art to spark the return of popularity to Final Fridays in Tempe, a tradition which has been dwindling down in recent times. In addition to painting the wall on the past Final Friday, the restaurant had many other artists in their courtyard selling and showing their work. Currently four businesses host Final Friday events, but 10 more are joining in May.